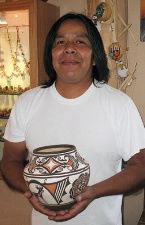 Carlos Laate - Deer in the House-Rosette Zuni Bowl
Carlos Laatelearned pottery making from his step-grandmother, Daisy Hooee, by observing and listening to her and what she had to say about pottery making. It was the same way with his aunt Jennie Laate. Carlos has been making pottery since 1989, and his technique continues to improve. His design elements cover all the traditional motifs: deer in the house, rosettes, rainbirds, lines, curves, and geometrics.
The present piece is decorated with a heart line deer in the house, a magnificent Zuni rosette, and other geometric designs. The painting is solid and bright, without flaws.
The pot measures 9 1/2 inches tall by 11 inches in diameter.
Item No.: A1563
Artist: Carlos Laate
Size: 9 1/2 in H x 11 in D
Price: 680