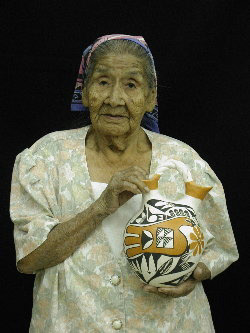 Eva Histia Wedding Vase Acoma Classic Pottery
Eva Histia, the famous matriarch of Acoma pottery has hand coiled and hand painted this wedding vase. The pottery is large and very impressive up close, measuring 10 1/2 inches high by 7 inches wide. Eva is truly famous for her pottery and owning one of her creations is a must for any serious collection of American Indian pottery.
In a sad turn of events, Eva passed away around Christmas time of 2006. The last time she is known to have produced pottery was that November. I was grateful and happy to be able to acquire this stunning piece and offer it to collectors.
In her lifetime, Eva had won a good number of awards in juried competition, including the prestigious Indian Market in Santa Fe. She has been featured in Dr. Gregory Schaaf's authoritative book Southern Pueblo Pottery: 2000 Artist Biographies.
Item No.: A1693
Artist: Eva Histia
Size: 10 1/2 in H x 7 in D
Price: 850