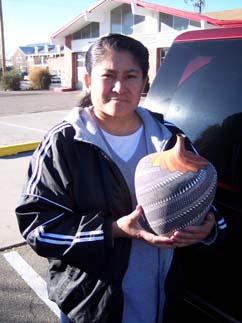 Sandra Victorino Stunning Fine Line Acoma Pottery
Sandra Victorino is a premier potter from the Acoma pueblo, who has enjoyed creating traditional Acoma pottery for over twenty years. She learned her art by watching her Grandmother and with much practice and patience of her own Sandra learned to paint with a yucca brush. Her designs include Half Snowflake, Tear Drop, Checkerboard, Whole Snowflake with fine-line, and Original fine-line, designs.
Many of Sandra's pots reflect the precision design work of her mentor Dorothy Torivio. Dorothy, "Auntie Dot" or "Dottie" is her mother's sister. Dorothy is one of the most famous contemporary Acoma potters. The awards Sandra has won in juried competition acknowledge her skill as a potter. She consistently wins first, second and third awards for her division, including Best of Show for all of Indian Market in 1998.
Sandra is a prolific potter who makes pots of all sizes, as well as all designs, such as bowls, seed-pots, and vases. Quite remarkably, she decorates her pots almost free hand. Her designs are not entirely marked on the pot prior to painting. She does pencil-in section lines, four or sometimes eight sections are used, then linked with slip forming squares. Her dominant color, black, is made from the combination of a local river stone and concentrated wild spinach plant. Firing is done in an old corral where chickens, turkeys and lambs, once were kept by her grandparents. The corral is a good place to store the wood, manure, and a shed there is handy for tools needed to tend the fire.
The pot pictured here is a large piece measuring 6 1/2 inches tall by 7 inches wide. It is decorated with the half triangle design that was once made famous by Dorothy Torivio, and is now re-interpreted in Sandra's work. The pot is signed by Sandra..
Item No.: A1802
Artist: Sandra Victorino
Size: 6 1/2 in H x 7 in D
Price: 915