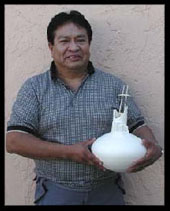 Wilfred Garcia Pueblo Vase Acoma Pottery
Wilfred Garcia is well known for his hand polished white pottery with Acoma, Anasazi or Mimbres designs sculptured or carved into the upper section of his pottery. Wilfred gathers natural clays from the Acoma Pueblo for his wonderful art work and then hand coils his pottery. He then carves by hand wonderful sculptures of traditional designs into his pottery.
Wilfred's final step is to create the satin sheen finish with a polishing stone. The result is a fantastic piece of artwork.
Wilfred has received numerous awards and is published in many publications such as "Beyond Tradition" and "Southwest Art". His works have been exhibited throughout the United States.
The present offering is possibly Wilfred's best recognized design. It is a vase with an elongated neck decorated with Kiva steps and bearing a relief of pueblo houses. A wooden ladder into the Kiva completes the decoration. The structure including the ladder measures 14 inches tall by 8 1/2 inches wide .
Item No.: A1842
Artist: Wilfred Garcia
Size: 14 in H (with ladder) x 7.5 in D
Price: 650