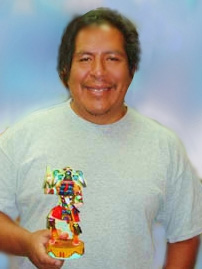 Malcolm Fred Chipmunk Hopi Kachina Doll
The kachina:
Chipmunk (Koona) Racer. This kachina is very fast on his feet and generally beats his opponents. He carries a yucca whip with which to beat the loser.
The Kona Kachina is one of a group of kachinas considered Wawash kachinas or Runner kachinas. A good explanation of this group of kachinas is presented in the book Kachinas: the Barry Goldwater Collection at the Heard Museum, which we quote:
``Often during the Plaza Dances a number of masked personages appear that are neither dancers nor clowns. These individuals are the Runner or Wawash Kachinas. They are easily recognized by their abbreviated costumes with few encumbrances, and by the large eye and nose holes in their masks which allow them both adequate vision and breath as they run. ''
``Assembling at one end of the plaza, usually during a pause in kachina dancing, they spread a blanket and place upon it many varieties of food. Then prancing up and down and rushing about they invite any and all to race against them. If no challenger is immediately forthcoming they may inveigle some hapless clown into stepping in front of the blanket. The results are instantaneous for as soon as any one steps before the blanket the race is on and they start in a flash. Should the challenger win, he receives a prize but if he loses he receives the punishment meted out by the particular kachina that overtook him. This punishment may range from a vigorous blow with a yucca leaf whip to having the shirt ripped off his back. Other favored punishments include having several locks of hair cut off with sheep shears or rubbing the loser's face with ordure or grease and soot.''
``While the episode provokes great merriment it has a serious function as well. The purpose appears to be a reinforcement of the habit of running, as well as the ritual encouragement of the kachinas to hasten with their benefit (namely water).''
The Carver:
Malcolm Fred originates from a whole family of Kachina carvers including his five brothers Verlan, Glen, Nathan, Henry & Jim. The Fred family, including Malcolm, belong to the Roadrunner and Greasewood native clans. Malcolm was raised in the village of Bacavi. He has been carving fantastic katsinam since he was a teenager and now, after 25 years, is a well known kachina carve all over the world.
Malcolm Fred kachinas have won many awards, including the ``Zuni Fire God'' award in the Arizona State Fair in 1996. His artistic inspiration comes from his spirituality, natural and cultural history, and the freedom of expressing his inner feelings. The kachina that Malcolm most frequently carves is called 'The Whipper", though his "Flute Player" is also a favorite. Malcolm continues to achieve incredible realism in his figures, and is known for his large and well-proportioned figures.
Item No.: KD.0064
Artist: Malcolm Fred
Size: 9 in H
Price: 1200