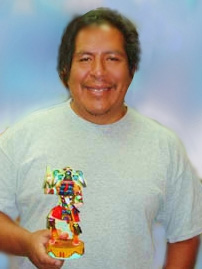 Malcolm Fred Broadface Hopi Kachina Doll
The kachina:
This kachina carries yucca whips to make people of the village join together to clean the community areas.
The Broad-Faced or Wuyak-kuita Kachina is a guard Kachina. In every ceremony, he helps the other guards prevent any transgression on the path of the Kachinas. He is not a guard in the Powamu Ceremony on First Mesa. He accompanies the Soyoko and helps her in all her activities. The Broad Face carries yucca whips and moves in an intimidating manner. He is the one who moves toward the clowns and terrifies them. On Third Mesa, He is the Kachina who guards the kivas to keep He Wuhti from getting too close during the Palolokong Ceremony.
The Carver:
Malcolm Fred originates from a whole family of Kachina carvers including his five brothers Verlan, Glen, Nathan, Henry & Jim. The Fred family, including Malcolm, belong to the Roadrunner and Greasewood native clans. Malcolm was raised in the village of Bacavi. He has been carving fantastic katsinam since he was a teenager and now, after 25 years, is a well known kachina carve all over the world.
Malcolm Fred kachinas have won many awards, including the ``Zuni Fire God'' award in the Arizona State Fair in 1996. His artistic inspiration comes from his spirituality, natural and cultural history, and the freedom of expressing his inner feelings. The kachina that Malcolm most frequently carves is called 'The Whipper", though his "Flute Player" is also a favorite. Malcolm continues to achieve incredible realism in his figures, and is known for his large and well-proportioned figures.
Item No.: KD.0065
Artist: Malcolm Fred
Size: 10 1/2 in H
Price: 1650